Conflict. Conflicto. Conflit. Konflikt. Conflito. Conflitto. There doesn't seem to be much difference in the ways various tongues express the concept of conflict.
What is distinct is the way each and every one of us reacts in a situation of conflict, and tries to manage it. There is no right or wrong approach, just different ones depending on the situation.
We've assessed the conflict resolution styles of a group of contact centre agents, and some gender preferences came to the surface. While most styles don't display any remarkable variation between male and female agents, it appears that women score higher on bargaining, and men score higher on domination.
As Desmond Tutu – the famous Peace Nobel Prize Winner – says, next time you're facing conflict, "Don't raise your voice, improve your argument" – in whatever language that may be.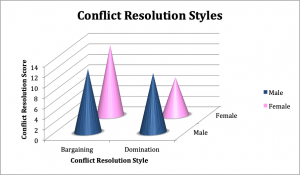 T2 workshops give delegates tools and strategies to comprehend the process of conflict, deal with it, and minimise it in the future.