Nowadays, resolving or reducing complaints is no longer enough. To be truly successful, it's crucial for companies to turn each customer into an advocate. Someone who's able to positively influence the perceptions of thousands of other people – both in the real world and on social media.
That's where The Power of Words comes in.
This programme establishes best practices for customer service. And thanks to Psycho-Linguistics, it will also take advisors' communication skills to new heights. Modules include:
the top five things all customers want
what makes humans tick
turning negatives into positives
15 magic words
the tricks of perception
transactional analysis
psychological stroking
the three most effective persuasive arguments
active listening
the importance of your voice at work
overcoming cross-cultural barriers
emotional intelligence.
This bespoke programme can run for one or two days. Or, it can be part of a comprehensive four-day package on omni-channel communication (both spoken and written).
As always, it comes with all the essentials you need, some optional extras, and T2's on-going support.
Clients say…
"Since T2 introduced Psycho-Linguistics I have seen our entire team come together with a common goal to serve the emotional needs of our customers. Not only has our company begun healing our relationship with our customers, but we have also witnessed our team strengthen our own emotional and psychological trust in each other."
Micah Clack, Consumers Energy
"We've got the green light to drive Psycho-Linguistics throughout the remaining 1,400 staff in the organisation – the hard work starts here." 
Paul Winterbourne, Nationwide
—
Interested? Get in touch: info@t2linguistics.com
T2's Very Special Training Packages
In January, T2 launched a customised series of developmental programmes, which will allow L&D Departments to bring our unique, copyrighted programmes effortlessly in-house, and make Psycho-Linguistics part of a Company's DNA.
The programmes are based on three decades of experience with global clients from all sectors – including banks, insurance companies, retailers, utilities and government departments.
Each one comes in a user-friendly format, with a full range of support material: model answers, quality framework and sustainability. They've all been specifically engineered with customers – and employees – in mind.
Love Your Complaints won the most Innovative Training Award at the Customer Service Training Awards in 2012.
The Power of Words won the Best Training Award at the Contact Centre Supplier Awards in 2016.
Smart Writing, designed to satisfy the increasing demand of omni-channel communication, has been our most popular programme for three years in a row.
Results prove that by using our unique Psycho-Linguistic strategies organisations not only manage the content of their communication, but also customers' emotional reactions to it.
Corporate brands and tones of voice come to life. Trust, empathy and conflict improve. Staff engagement gets a boost. Performance and profitability increase.
Each developmental package is guaranteed to provide a rock-solid return on investment.
—
For details and prices: info@t2linguistics.com
Optimists Deliver Better Performance
Optimism is defined as being disposed to take a favourable view of events or conditions with the expectation of a positive outcome – or put more simply seeing the bright side of life.
But does optimism have any effect on performance?  And if so, how can companies use the know-how to improve customer service?
During the past two years T2 has been involved in two company-wide initiatives to improve customer service: the first with one of the six big utility companies, British Gas plc, and the second with a UK Government Agency, DVLA.  As part of both projects we have tested some interesting psychological and behavioural concepts that have a significant impact on customer engagement.  
The research took a broad, overall look at the levels of optimism in each organisation. It focused on customer service teams dealing with millions of customers. In 2018, British Gas had 13 million customers and DVLA was responsible for dealing with 45 motorists.
Together over 1,000 call handlers completed T2's Personality Profile Questionnaires and the results of each personality section of the questionnaire were correlated with the age, experience and the hobbies of each respondent. The aim of this research was to help employees develop personal insights into their psychological make-up, emotional intelligence and conflict resolution styles.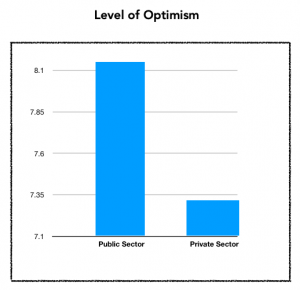 Staff in the public sector have a job for life, a pension, a career path and are confident about their futures.  In the private sector, when respondents completed the questionnaire, the company was losing customers, was on the verge of being restructured and jobs were at risk.  So the results in the figure above are not surprising.
Three additional and surprising results came out of the research.
Outcome Number One
Advisors aged between 40 – 51  were more optimistic.
It's possible that this group had life experience to call on when dealing with customers, which made them more successful in their roles, which in turn generated greater personal satisfaction and made them pleased about their interaction with customers. 
Being more mature than their younger colleagues, they may also have learned more about their personal strengths using these to greater effect in their jobs, whilst understanding their weaknesses and mitigating them.  They may also have established themselves out of work, which boosted overall their feeling of well-being.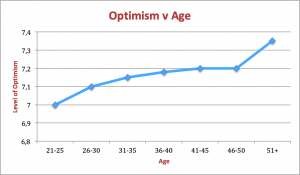 Outcome Number Two
Advisors who are more experienced are more optimistic.
These results show that newly recruited advisors are quite optimistic.  It may be they have positive feelings of success having landed their jobs. Over time, the graph shows their optimism reduces.
After ten years in the job levels of optimism start to improve, dramatically.  It's possible that many advisors join these organisation as a temporary measure, but when they discover they like the work, they stay.  
Certainly, those who have remained in the same position for 20 years would be highly-experienced and would have been exposed to a wide range of situations and a wide range of customers, so that they are fully confident in their abilities and on top of all the job requirements, reaching the level of unconscious competence.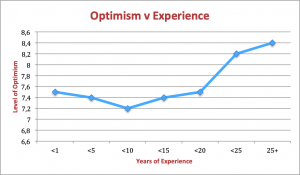 Outcome Number Three
Advisors  with active pastimes in all age groups are more optimistic. 
This result appears to imply that advisors with active pastimes scored higher on the optimism scale than their colleagues because of the energetic nature of their hobbies.  It may well be that many were involved in group activities – many talked about social drinking with friends, playing football or going to the gym. These are obviously people-related hobbies.  It's fair to speculate many would be extrovert.
Those with sedentary hobbies – reading, computer games, watching TV – tend to be less optimistic.  It's possible they may be introverted and less outgoing, while this does not necessarily lead to their being pessimistic, just less optimistic than their active colleagues.
Conclusion
The most significant implication of these findings is that HR Departments should consider optimism as a personality trait when selecting candidates for customer-facing jobs.
Moreover, they might like to factor in age, experience and hobbies into the mix.
Advisors working in the field of complaints do need a positive, optimistic outlook, or the nature of the job and the constant repetitive pressure of negative communication with customers would get them down.
—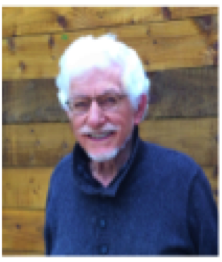 Dr Henry Fabian, Registered Clinical Psychologist
Rave Reviews for Smart Writing
T2's Smart Writing programmes and Style Guides have registered rave reviews from our new client, a worldwide leader in outsourced multichannel customer experience.
Recently, we were commissioned a series of writing courses to improve the quality, style and emotional impact of our client's written customer communication.
We designed a bespoke programme that revolved around Psycho-Linguistics: a unique combination of Psychology and Language which allows companies not only to manage the content of messages, but also customers' emotional reactions.
After only one week, repeat contact dropped dramatically, and customers started congratulating advisors on their "impressive" new Smart emails.
The VP of Operations who commissioned the work, the CEO, the Head of Customer Service, the Team Leader and the participants are all 'raving' about the programmes.
The front-line staff said they "thoroughly enjoyed the two days" and "felt much more confident when returning to work".
And the management noticed a great improvement in staff's writing skills, as well as a boost in their desire to write and their motivation levels.
A win-win for everybody.