Stress and pressure. These apparent enemies of ours can be found everywhere, whether we want it or not: from song titles and edge-of-your-seat movies, to our personal and professional lives.
But although some people might use them interchangeably, they are quite different.
Feeling stressed equals feeling overwhelmed and unable to cope with the many demands placed on us; feeling under pressure refers to the more circumscribed situation in which not only we feel stressed, but our performance/results have vital consequences (Weisinger and Pawliw-Fry 2015).
Today, we're going to share some brand new research we conducted on stress in the customer service sector.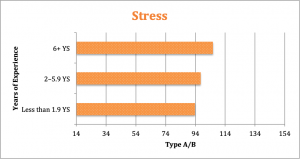 The data we've collected from a cross section of Contact Centre Agents, whose work experience ranges from less than 2 to more than 6 years, displays a correlation between more work experience and higher stress levels.
CSRs that have been working for longer are, on average, more significantly Type A Personality. That is, they're more prone to stress, and therefore more rigid and less adaptable to the changes that their work environment constantly demands.
So given this prelude, what are the trends going to be like for the most experienced staff: are we set for a horror-story finale, or are there any surprises in store?
Stay tuned for more T2 research!
T2 programmes enable delegates to harness strategies to reduce stress and anxiety, and learn positivity and confidence techniques.