In our September post "No Man Is an Island" we explored the Emotional Intelligence skill of Relationship Management in a contact centre environment and showed how it seems to increase with age.
In this article we're going to keep a focus on both EI and contact centres, but we're shifting perspective from age to gender, and we're going to consider another – more personal – EI skill: self-awareness.
Self-awareness is the ability to know ourselves – our qualities and limits – and be comfortable in our own skin.
Research to date shows that women outperform men on self-awareness, and our data confirm that this is true also in call centre environments.
But what can we all do to further develop our self-awareness skills?
To discover more, have a look at this Ted talk by Professor Valon Murtezaj: https://www.youtube.com/watch?v=LH12DmOwWRk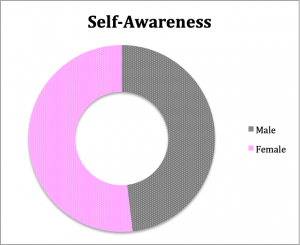 T2 courses explore emotional intelligence techniques that help you thrive at work and at home. 
Back to Blog