Emotional Intelligence (EI), or the ability to understand and manage our emotions, is becoming increasingly prominent in today's society.
In Emotional Intelligence 2.0 (2009), Travis Bradberry and Jean Greaves identify the four EI skills in self-awareness, self-management, social awareness and relationship management.
Our research into EI levels in the Contact Centre Industry suggests that agents younger than 25 years old tend to score lower on relationship management than the 26–40 and over 41 age groups.
This is to be expected, if we keep in mind that relationship management – like any other EI skill – can be practiced and developed with time.
What is more notable is that, by virtue of its very nature (which involves dealing and communicating with people of all ages and backgrounds) the customer service sector may be a valuable platform to improve relationship management skills. And this is why those who have worked in a customer-facing position for longer achieve higher scores.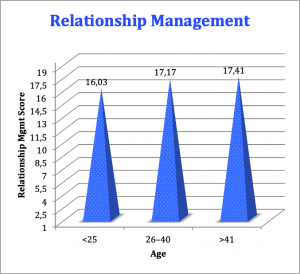 T2 programmes will equip you with all necessary techniques to enhance your communication and collaboration skills, with the added value of a customer-service focus. 
Back to Blog