Autumn is the time of letting go par excellence.
This season, we've also witnessed our delegates letting go of preconceptions as they took some time to reflect on the training we delivered over the past few months.
We've asked 200 Customer Service Representatives of a UK Government Department two initial questions:
1.    Before you came on our training course, did you think it would make you better at doing your job?
2.    After being through our course, do you think you'll be able to use any of the strategies/techniques in your phone calls/emails/letters with customers?
Here's a graphic comparison of their responses: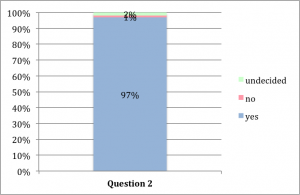 These results are self-explanatory, and we cannot but confirm that – after being in business for over a quarter of a century – we've got a magic formula!
But it doesn't stop here. Our training is not simply proved to be useful for our delegates – on both a theoretical and practical level.
A massive impact on the Company's overall performance and profitability is also evident from another set of questions, which obtained exactly the same percentages, as shown in the graph below:
3.    As a result of the training, do you think your customers will be more satisfied?
4.    As a result of the training, do you think your calls will improve the image of the Company?
And so, as the nature around us changes colour and shape, we record that another transformation is also taking place. In our client's contact centre, agents have abandoned many of their old habits, and embraced a more modern, dynamic and successful style of communication.
Back to Blog